We Are Passionate About Our Services
Express Care of Ocala is dedicated to attending to your medical and health needs. Our highly qualified staff are ready to serve.
Primary Care
Physicals, referrals, refills oh my! We can do all the above and more. Click below to learn more about our primary services.
Urgent Care
With lab facilities and x-ray capabilities on site, we make your urgent care needs a breeze. Walk-ins welcome 7 days a week.
Occupational Health
We offer a wide range of services for employees and employers to keep you and your workplace healthy and safe.
Covid-19 Testing
We are a testing facility! Onsite Covid-19 testing with results in as little as 30 minutes for rapid tests, and 24-48 hours for PCR tests.
Wellness and Annual Health Assessments
Our medical professionals strive to improve your quality of life by focusing on preventive care, health screenings and wellness planning.
Telehealth Visits
Get the care you need in the comfort of your own home. Established patients are able to recieve their care via a video conference.
Patient Portal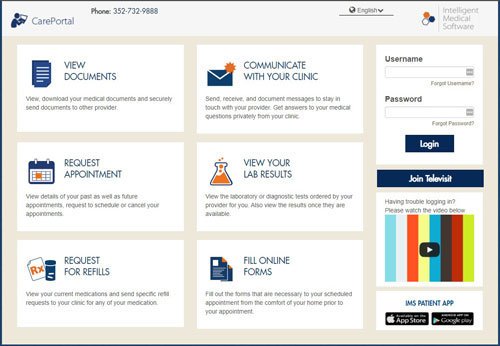 All patients have access to our online Patient Portal. The Patient Portal allows you to access your records, lab results and manage your appointments. There are no additional costs to use our Patient Portal.
If you need help with the initial set-up, or accessing our Patient Portal, please call us 352-732-9888.
Access Patient Portal
Medically serving the citizens of Marion County since 1993.
Gordon Johnson, ARNP, co-owner of Express Care of Ocala.
Urgent Care and Primary Care 7-Days a week.

- Ocala's #1 ER Alternative
- Primary Care on the weekends
- Lab and Radiology imaging capabilities onsite
Serving the Ocala area since 1990. With staff trained and board certified in multiple specialties, we are prepared to serve our patients and treat their ailments in a caring, timely, and professional manner. We have Lab and Radiology imaging capabilities onsite.
On Site X-rays and CT Scans
EKG and Cardiac Monitoring
Most Lab Testing Available On Site
ER Trained Staff and RN on Call 24/7
Direct Admit Hospital
and more
Prescription Refills
Women's Services
Diabetes, Cholesterol, and BP Screening
COPD & Asthma Care
Depression and Anxiety
and more
Have questions? Read our frequently asked questions. FAQs